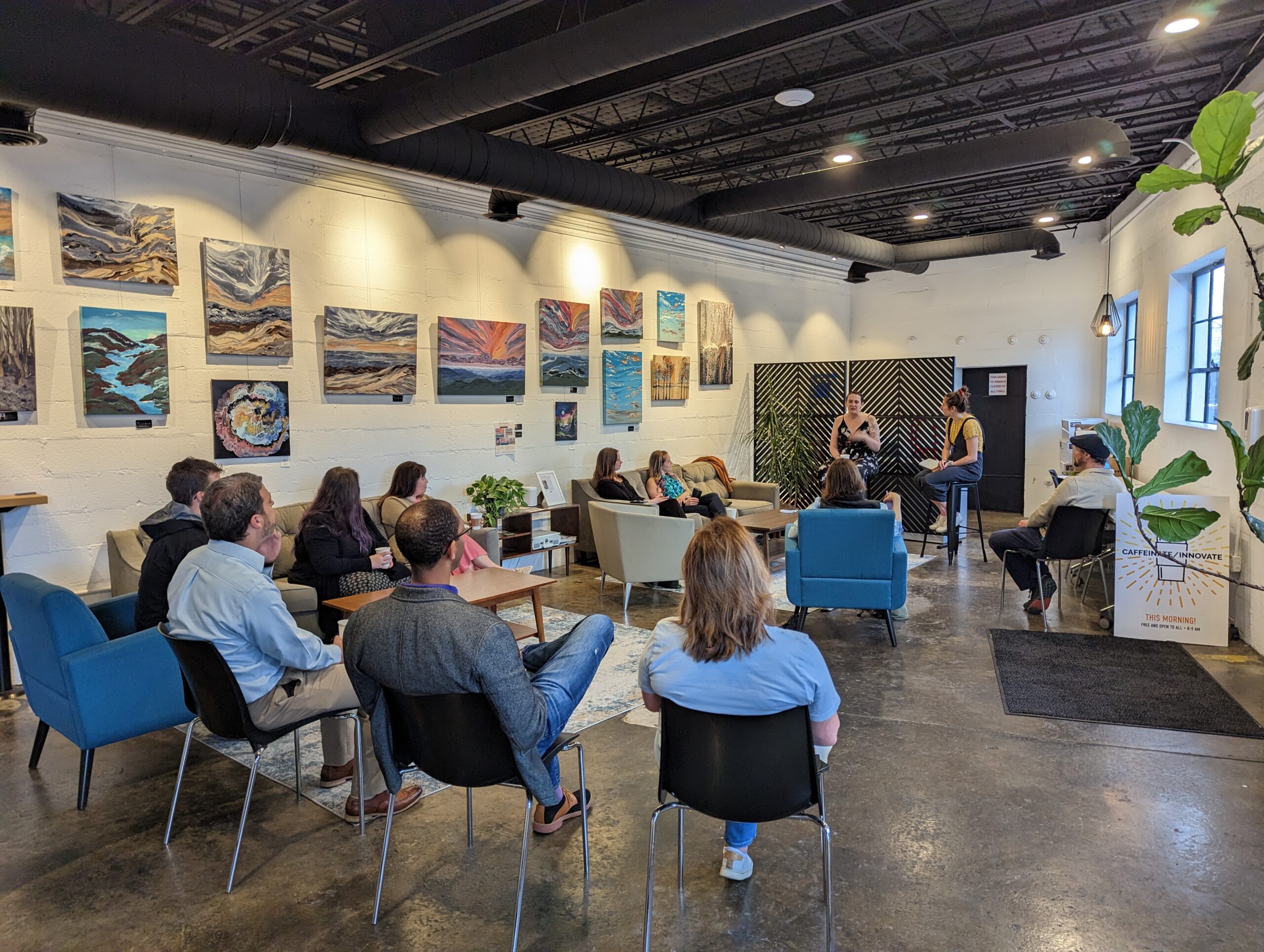 The Perch at Magpie
What's better than a light-filled coworking space with conference rooms, phone booths and strong coffee, roasted-on-site? 
Having that co-working space upstairs from one of Harrisonburg's culinary institutions: Magpie Diner.
Launched by Kirsten Moore in 2015 (originally as The Hub), The Perch offers professionals, entrepreneurs and innovators in the Central Valley a space to collaborate, ideate and be part of a community that share at least one ambition: to work, live and play in Harrisonburg. Space manager Amanda Presgraves explains, "Our community shares a cool flexible workspace, chats over coffee around the kitchen island, makes important connections, and supports each other in the work we all do individually. It elevates everyone in terms of productivity, outcomes, and belonging, but also just in terms of feeling connected and having fun at work."
More than a co-working space, The Perch team is intentional about creating space for their members and to connect with the Harrisonburg community outside of co-working. 
On the first Friday of each month, The Perch is one of the stops of the city's artwalk. As part of Harrisonburg's First Friday initiative, The Wing Gallery features a new artist every month with an opening reception. "Supporting the arts is an important aspect of what we do at The Perch. We often forget that artists are also entrepreneurs and having a place where they can display and sell their work, talk with the community, and grow their audience is not unlike any other small business. We benefit by having an ever-changing gathering space with beautiful, original art."
But it doesn't stop there. On the last Thursday of every month, The Perch team invites regional innovators from the community to share their story at Caffeinate/Innovate: a monthly morning speaker series that combines an in-depth moderated conversation with Q&A over freshly brewed coffee and awesome networking. From an Icelandic bicycle company to a pole fitness instructor, speakers prove that innovation happens in many unexpected ways in the Valley. Kirsten Moore adds, "I love hearing stories of innovators in our region. It doesn't matter what the topic is, those stories inspire and make us think bigger and more broadly about our own ideas. We're all better because of those conversations."
Kirsten's latest project is taking shape right across the street. Liberty St. Mercantile is slated to open in summer 2023. With an event venue for up to 300  people on the second floor, the ground floor will be the new home to new startups Asdelia Mae (a children's clothing boutique), Parentheses books (an independent bookstore), Living | Room (a home decor and gift store), Rootstock Wine Bar & Provisions. Plus a new location for Blakemore Flower Co. (a florist and flower shop), Chestnut Ridge Coffee Roasters, and Rocktown Yarn. Liberty St. Mercantile will even have flexible kiosk space for early-stage entrepreneurs that want to validate their products before taking on a brick and mortar store on their own. Retail doesn't have to be scary, but it can be a huge financial commitment. Finding ways to support those small businesses starting out is really important to me. Having this building right across from Magpie and The Perch is an automatic feeder for those stores and just creates such a vibrant, thriving neighborhood feel. My hope is that it benefits ALL of the north end businesses.
While private offices and dedicated desks at the Perch have a waitlist, general memberships start at $125/month and include perks like conference room use, free coffee, discounts at Magpie, copier and office supplies, super fast wi-fi, and, of course, a great community of co-workers!