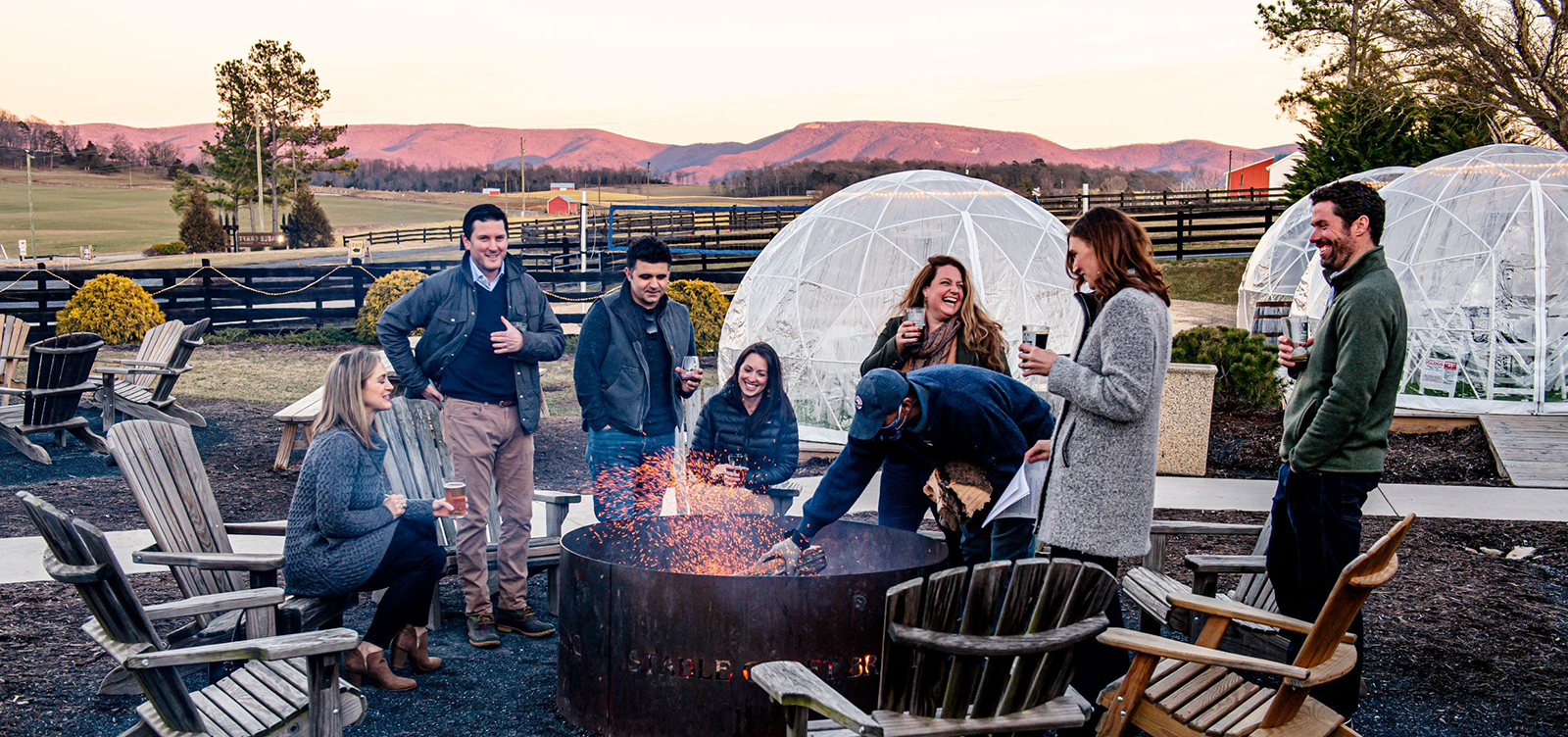 City Living
From the youthful energy of major universities to the expansive potential of reimagined manufacturing centers, our cities provide a flavor of urban living that is sure to match any professional style. Beyond their individual characters, our cities integrate thriving farmers markets, co-working opportunities, all-hours entertainment and outdoor recreational assets to forge a live, work, experience.
Harrisonburg
The Friendly City · Vibrant, modern, and diverse, Harrisonburg is known as the "Friendly City" and is anchored by two universities. James Madison University attracts over 20,000 students to the City each year, whose energy fuels the downtown core with cultural and professional amenities for the young and the young at heart. Eastern Mennonite University brings a longstanding emphasis on service, peacebuilding, and a global outlook that values multiculturalism. The City's commitment to being a friendly and welcoming community extends throughout its public school system, where 51 countries and more than 70 languages are represented. Downtown, The Perch at Magpie, one of several coworking spaces, offers an inspiring and collaborative work space for professionals, entrepreneurs and innovators.
Staunton
Big Time Culture, Small Town Cool · Staunton's charming downtown is home to a vibrant arts and music scene, a sizzling reputation for local food and dining, and a cool array of independent shops and galleries clustered along the historic Main Street. Enjoy an evening of theater at the American Shakespeare Center, step back in time at the Frontier Culture Museum, or explore the legacy of Woodrow Wilson at his presidential library and museum. Inventors and craftspeople will find a home at the Staunton Makerspace, where woodworking, ceramics, and 3D printing studios are cooperatively managed.
Waynesboro
Mountain Town + Industrial Renaissance · Located at the intersection of the Shenandoah National Park, the Blue Ridge Parkway and the Appalachian Trail, Waynesboro is divinely placed among adventure, whether your tastes run toward biking, hiking, or paddling and fly fishing in the trout-stocked waters of the South River. Don't let the abundance of outdoor adventure hide its urban charm. Home of the Virginia Street Arts Festival and  recognized for the best street art mural of 2019 worldwide, its industrial buildings house an emerging renaissance of art, alternative energy, craft beer, and DIY-scale manufacturing businesses.
Lexington
Historic Main Street · Lined with historic buildings, farm-to-table eateries, bright galleries and inviting boutiques, downtown Lexington is easy to love. Washington and Lee University and Virginia Military Institute flank the downtown core, leaving the City's historical architecture looking much as it did in the 1860s. The museums and cultural events on these campuses are open to the public, offering world class speakers and entertainment.
Buena Vista
Natural Choice to Change Your View · The City of Buena Vista sits at the base of the Blue Ridge Parkway, along the banks of the Maury River in Glen Maury Park  and under the stately profile of Southern Virginia University. A gateway to the great outdoors, Buena Vista is a city that works with businesses large and small, values education from the youngest children to the young adults and thrives on a bright future in a spectacular location.
Country Living
The Shenandoah Valley offers some of life's greatest gifts: room to explore, places to play and welcoming community.  
Augusta County
Farming heritage and public lands adventure come together in Augusta County. One of the top two agricultural producing counties in Virginia, Augusta is also the gateway to the Shenandoah National Park and milepost zero for the Blue Ridge Parkway. Find fly-fishing bucket list destinations along Mossy Creek and the South River, or discover the allure of country roads during the Shenandoah Fall Foliage Bike Festival. Sitting at the intersection of I-64 and I-81, Augusta is the center of both adventure and commerce. 
Bath County
Famous for its mineral springs and the Homestead Resort, Bath County has a tiny population with big surprises and abundant hospitality. Douthat State Park's cabins and lakefront beaches attract campers, hikers, boaters, cyclists, and cross country skiers in year round outdoor play, while the Garth Newel Music Center hosts more than sixty classical chamber music concerts a year, along with blues, jazz, bluegrass and more. One part adventure, two parts culture is the Bath County way. 
Highland County
Often referred to as "Virginia's Switzerland" and home of the Virginia Maple Syrup Festival, this land of high mountain valleys, sheep and cattle grazing farms, and vast woodlands is known for its pristine scenic beauty and rural charm. It is one of the least populated counties in the east and boasts one of the highest mean elevations of any county east of the Mississippi River. Located at the headwaters of the James and Potomac Rivers, Highland is the source of the freshest water and the sweetest syrup in the state. 
Page County
Page County is a four seasons playground, where artisans, farmers, and entrepreneurs build a local economy that's a tucked away gem. Unlike many of its sister counties, no major interstate leads to Page. It's surrounded by rural roads and scenic byways, nestled between Massanutten Mountain and the Shenandoah National Park, bisected by the Shenandoah River, and home to Luray Caverns. If rolling hills, rich farmland, and riverfront access calls to you, Page County delivers. 
Rockbridge County
Mountain farms and horse country surrounds historic Lexington, home of the Virginia Horse Center, a 19 show ring, 4,000 seat coliseum, world class venue hosting regional, national, and international equestrian events. Kayakers and canoes will fall in love with the Upper James River Water Trail while children and geologists alike marvel at Natural Bridge State Park and the Caverns at Natural Bridge in Rockbridge County. 
Rockingham County
Bounded on the west by the George Washington National Forest and the east by the Shenandoah National Park, the rich valley floor in between makes Rockingham one of Virginia's two biggest agricultural producing counties. With a strong outdoor adventure culture fueled by the youthful energy of two universities' graduates, mountain bike trail construction, town-to-town greenways, and cycling races across the county. Massanutten Resort, with wintertime skiing, a downhill bike park, and golf course bring big time amenities to Rockingham all season long. 
Shenandoah County
Shenandoah County is home to a string of charming small towns, snaked along the historic Route 11 travel route, now commemorated by the famous Route 11 Potato Chips. Hop from Main Street to Main Street for old timey store fronts or venture into the County at large to visit the Shenandoah Caverns and the Bryce Ski Resort and Mountain Bike Park. From the simple joys of riverside fishing to farm-to-table restaurants, Shenandoah County's motto is to "find your way back to that feeling."
Raising A Family
Breathe in the mountain air, and relax into a region that's hailed both by multi-generational residents and young couple newcomers as the ideal place to raise a family.
Beyond excellent local school systems, the Valley is characterized by a rural culture that celebrates children's learning. From 4H programs that introduce students to the joys and realities of local food systems to Red Wing Academy, nurturing the wings and roots of the newest generation of old time musicians, the Valley's traditions of farming, music, and outdoor recreation are the inheritance of today's up and coming students. Visit Explore More Discovery Museum where children learn through play among interactive exhibits, join the ShenRock Team to empower kids to pursue a lifetime of mountain biking adventure, or plan a trip to the annual Highland County Maple Festival, where quality family time is all sweetness and sticky fingers.
The Shenandoah Valley offers many options for parents seeking quality instruction in childcare centers, preschools and before and after school care.
Childcare Center Search based on location (*you'll be redirected to childcarecenter.us):
Transportation
The Shenandoah Valley's scenic back roads connect you to Interstates 81 and 64 for seamless travel to larger metropolitan areas along the East Coast. Travel by plane, train, or automobile, or stay home to revel in beautiful bike paths and skyline drives.
Fly
The Valley is home to the Shenandoah Valley Airport (SHD). This regional airport is conveniently located between Harrisonburg, Staunton, and Waynesboro and offers access to world-wide destinations via daily round-trip service to Charlotte-Douglas International Airport (CLT) provided by Contour Airlines, a partner of American Airlines. Skip the long lines and enjoy hassle-free travel with SHD.
Ride the Rails
Hop aboard Amtrak's passenger trains. The Cardinal Line stops in Staunton three times each week, offering whitewater views through the New River Gorge en route to Chicago, or easterly travel to DC, Philadelphia, and New York City. Or catch the Crescent in nearby Charlottesville for travel to New Orleans, Atlanta, and NYC. 
Effortless Commuting
Leave behind the rush hour waits, and enjoy east-west and north-south interstate access that's accessible 24-7. Commute time averages to less than 23 minutes and with scenic drives, provides the perfect opportunity to reflect on your work day. For comparison, our daily commute time is 24 minutes less than the Washington D.C. Metro Area, freeing up 104 more hours a year for you to enjoy Shenandoah Valley living. In addition to connecting regional attractions and employment hubs throughout the Shenandoah Valley, our intersect infrastructure means we're less than a day's drive to every major mid-Atlantic metropolitan destination from New York to Atlanta. 
Joy Rides
Join a slower pace of life that leaves time for mountain cruises and greenway jaunts. Dubbed "America's favorite drive," the Blue Ridge Parkway provides 450 miles of stunning mountain scenery, connecting our Shenandoah National Park to the Great Smoky Mountains National Park and Asheville, NC. 
Explore country roads by bicycle through annual events like the Shenandoah Century, roll along former the railroad grades of the Chessie Trail, or bring out the full family for evening adventures along the South River and North End greenways.  
Housing
Affordable housing for regional wage levels means that homeownership levels are high in the Valley. Our housing market pairs accessible and beautiful single family housing with room for the treehouse in the backyard. Across the Valley, greenways, bike lanes, and Safe Routes to School initiatives are bringing back a beloved tradition of children connecting schools and neighborhoods in a web of exploration and freedom.
Locality
Median Home Value (2017-2021)*
Augusta County
$232,200
Bath County
$174,100
Buena Vista
$123,100
Harrisonburg
$231,300
Highland County
$166,400
Lexington
$251,500
Page County
$175,000
Rockbridge County
$209,500
Rockingham County
$231,800
Shenandoah County
$223,600
Staunton
$179,900
Waynesboro
$188,400
*Data Source: U.S. Census Bureau (2022)
Those seeking to take in the energy of a vibrant downtown community are in luck. Historic renovations pair well with modern design and aesthetic giving you options to live in comfort and in style.
Locality
Median Rental Lease**
City of Harrisonburg
$1,063
City of Staunton
$988
City of Waynesboro
$925
Rockingham County
$1,200
Overall for Augusta & Rockingham County
$1,050
** Data Source: Cottonwood Commercial
Healthcare
Shenandoah Valley residents appreciate balancing their busy lives with outdoor recreation and feasting on some of the best fresh food and drink available anywhere. This healthy work-life balance is complemented by a robust healthcare industry. Consistent investments in our healthcare infrastructure provide our community with easy access to a broad range of medical services, including outpatient care.
Serving the southern region
Serving the central region
Augusta Health was recognized by U.S. News & World Report as a Best Regional Hospital in the Shenandoah Valley for 2020-21, in addition to a "High Performing Hospital" for Heart Failure, Hip Replacement, and Knee Replacement. Contributing to a healthy community is their mission and one unique initiative includes a partnership with Allegheny Mountain Institute (AMI) to develop a sustainable production farm utilizing organic practices on Augusta Health's campus. The farm is also a community venue for healthy food and nutrition education.
Sentera RMH Medical Center Sentara RMH offers a Regional Cancer Center, Heart and Vascular Center, Wellness Center, Center for Corporate Health, and Center for Sleep Medicine as well as other services. Sentara RMH Medical Center received Magnet recognition from the American Nurses Credentialing Center (ANCC) in 2014, and re-designation in 2019. ANCC' s Magnet Recognition Program® identifies superior quality in nursing care and is the highest national honor for nursing excellence.
Serving the northern region
Page Memorial Hospital, affiliated with Valley Health, is a Critical Access Hospital providing a wide range of services and access to highly-trained specialists, including heart and vascular, orthopedics, family and internal medicine, neurology, obstetrics and gynecology, pediatrics, pulmonary and surgery. In 2014, the hospital moved into its new 67,700 square-foot replacement facility featuring private inpatient rooms, an expanded Emergency Department, and an enhanced transitional care program.
Shenandoah Memorial Hospital offers 24/7 emergency services, inpatient and outpatient surgery, cardiopulmonary services, women's care, diabetes management, behavioral health, sleep lab, health and wellness programs, and a broad range of other services. They have received The Patient Safety Excellence Award from Healthgrades for their exceptional performance in patience safety and service. Shenandoah Memorial Hospital is proudly supported by Valley Health.
Valley Health is a not-for-profit health system of hospitals, urgent cares, physician practices, and services dedicated to meeting the medical needs of the northern Shenandoah Valley, West Virginia and Maryland. Over 20 locations, including Page Memorial Hospital and Shenandoah Memorial Hospital, operate in the Shenandoah Valley.
Nearly 500 physicians and 150 dentists maintain practices in the Shenandoah Valley. In addition to these facilities, the residents are in close proximity to the University of Virginia Medical Center in Charlottesville. The hospital is a world-renowned teaching and research center offering the latest in technology, service, and facilities.
Climate
The Shenandoah Valley's four-season climate means you're able to experience growth and change throughout the year. Take in the sights of the valley coming to life cycling along gravel roads to mountain biking routes in the spring, outsmart a brook trout in the cold streams of Shenandoah National Park in the summer, snap Instagram-worthy fall foliage pics along Skyline Drive in the fall, and ski the slopes at Massanutten Resort in the winter.
Harrisonburg Climate Data
Jan
Feb
March
April
May
June
July
Aug
Sept
Oct
Nov
Dec
Average high in degree F
40
44
53
63
72
81
85
84
76
66
55
44
Average low in degree F
20
22
29
38
48
58
62
60
53
41
32
24
Average precipitation in inch
2.29
2.22
2.92
2.97
3.71
3.41
4.00
3.44
3.54
2.52
2.85
2.61
Average snowfall in inch
5
7
3
1
0
0
0
0
0
0
1
4
Source: US Climate Data 2022
Cost of Living
Serving up the best of small city cool and rural charm, the Shenandoah Valley sacrifices neither to the congestion and sprawl typical of so many larger metropolitan regions.
Cost of Living and Quality of Life Indicators
Metro/Micro
COL Index**
Mean Commute Time
Unemployment (May 2021)
Median Household Income (2019)
Population 2019
Projected Population (2025)
Harrisonburg-Rockingham VA Metro
96.8
19.8 minutes
2,329
$56,500
135,519
143,378 (+3%)
Staunton-Waynesboro-Augusta VA Metro
97.5
23.1 minutes
2,035
$57,140
123,452
129,305 (+3%)
Lexington-Buena Vista-Rockbridge VA
98.4
25.9 minutes
388
$54,600
22,774
22,913 (+1%)
Washington-Arlington-Alexandria VA Metro
117.4
35.0 minutes
59,479
$103,751
6,297,454
6,557,524 (+3%)
Richmond VA Metro
103.9
25.3 minutes
28,591
$66,529
1,293,983
1,368,779 (+4%)
Virginia Beach-Norfolk-Newport News VA Metro
103.7
24.6 minutes
38,744
$66,579
1,773,624
1,8,,1654 (+1%)
Charlottesville VA Metro
106.4
23.4 minutes
3,860
$72,679
219,160
231,514 (+4%)
Winchester VA Metro
100.6
31.8 minutes
1,974
$67,072
140,732
149,645 (+5%)
*Source: EMSI Q3 2021 Data Set. **COL Index: Emsi's cost of living data is based on the Cost of Living Index published by the Council for Community and Economic Research (C2ER).