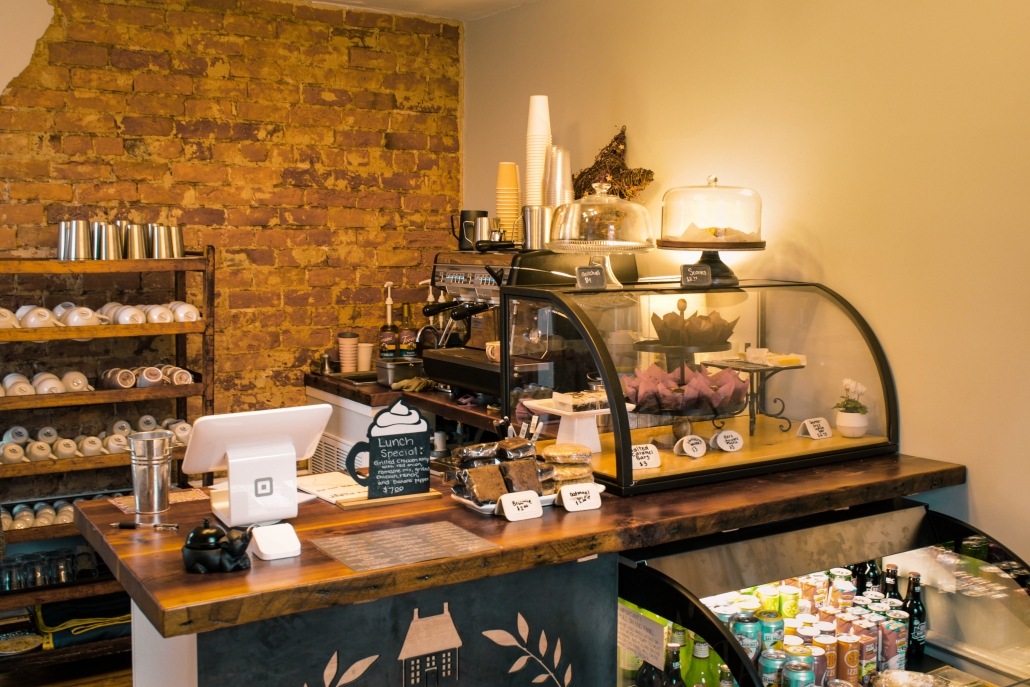 Slow & Steady Growth: Sugar & Bean Cafe

Slow & Steady Growth: Sugar & Bean Cafe
In 2015, Heather Benin started baking in her kitchen. Her youngest son was starting pre-school and in anticipation of having a little more time on her hands, she wanted to see whether her baked goods might make a welcome addition to the Bridgewater farmers market.
Even before that started, she had a hunch about what might count as a novelty and secure her a spot, "Nobody was offering specialty drinks such as cappuccinos or lattes. I ordered a small espresso machine which got too small after only one week so I ordered a bigger one. Then I added smoothies, and things took off! When the farmers market in Bridgwater closed down for the year (it was seasonal and has since ceased to exist), I applied to the Harrisonburg farmers market and got in. Suddenly, my side-hustle became a year-around project. Then I added the JMU farmers market and it felt like I kept hitting the mark: JMU students really like their smoothies and baked goods!"
Sugar & Bean, now a Bridgewater staple, grew slowly but steadily. The pandemic as well as adding one market at the time allowed her to test out her systems and grow organically. Heather explains, "When I first started out, this kind of volume would have been extremely difficult. In 2018, when I outgrew my kitchen at home, I started  looking for a different space. A friend of mine sent me a picture of the house that is now home to Sugar & Bean. The moment I walked in, I was in trouble! I never wanted to have a cafe but I could see my vision come to life in this very building. It was just after Thanksgiving and I was almost annoyed because a cafe had definitely not been the plan. I called my realtor to see it that very day and the moment I walked through the door, I could see the layout come to life. It needed so much work to get it fixed up but we bought it on New Years Eve 2018. Now, Sugar & Bean is my full-time business."
Heather had restaurant experience from working in hospitality and managing a restaurant after college while she earned her masters in counseling. Becoming an entrepreneur, however, was new territory, Heather says. "I'm a self-taught entrepreneur. We opened a month before the pandemic hit. When I first started out, my mom helped me with the books. Once we got into hiring employees, we needed an accountant but simply couldn't find one. So I did it myself. I got some family loans to help me get started and I worked with the Small Business Development Center (SBDC) to write a business plan."
"To be able to make money, you have to be lean. I do a lot myself: from accounting and bookkeeping to laundry." – Heather Benin
Surviving Through the Pandemic
While starting a cafe just before the pandemic is not ideal timing, Heather made the most of it, "Because we had only just started, I didn't have many employees. For the first few weeks, it was just me. Then I got two PPP loans and a small grant  through Rockingham county. I didn't have the option to close the door – we had a mortgage to pay! Eventually, I brought on some help. We didn't know yet what normal was. The pandemic allowed us to get slow enough to figure out our systems and get good at what we do."
To this day, Heather and her team are particular about serving great food. They do blind taste tests to figure out the best ingredients and test new recipes. Her advice for entrepreneurs: "Start super slow. If you're in food and beverage, start at a farmers market to figure out what sells before you buy a building or invest heavily in an idea that is just that: an idea. Testing your recipes and systems, figuring out pricing and process before you commit full-time is the most valuable feedback you can get."
"The slow growth and progression was everything for me." – Heather Benin 
You can visit Sugar and Bean Cafe Monday through Friday from 7 am to 5 pm and Saturday from 8 am to 5 pm, or order online to skip the lines!