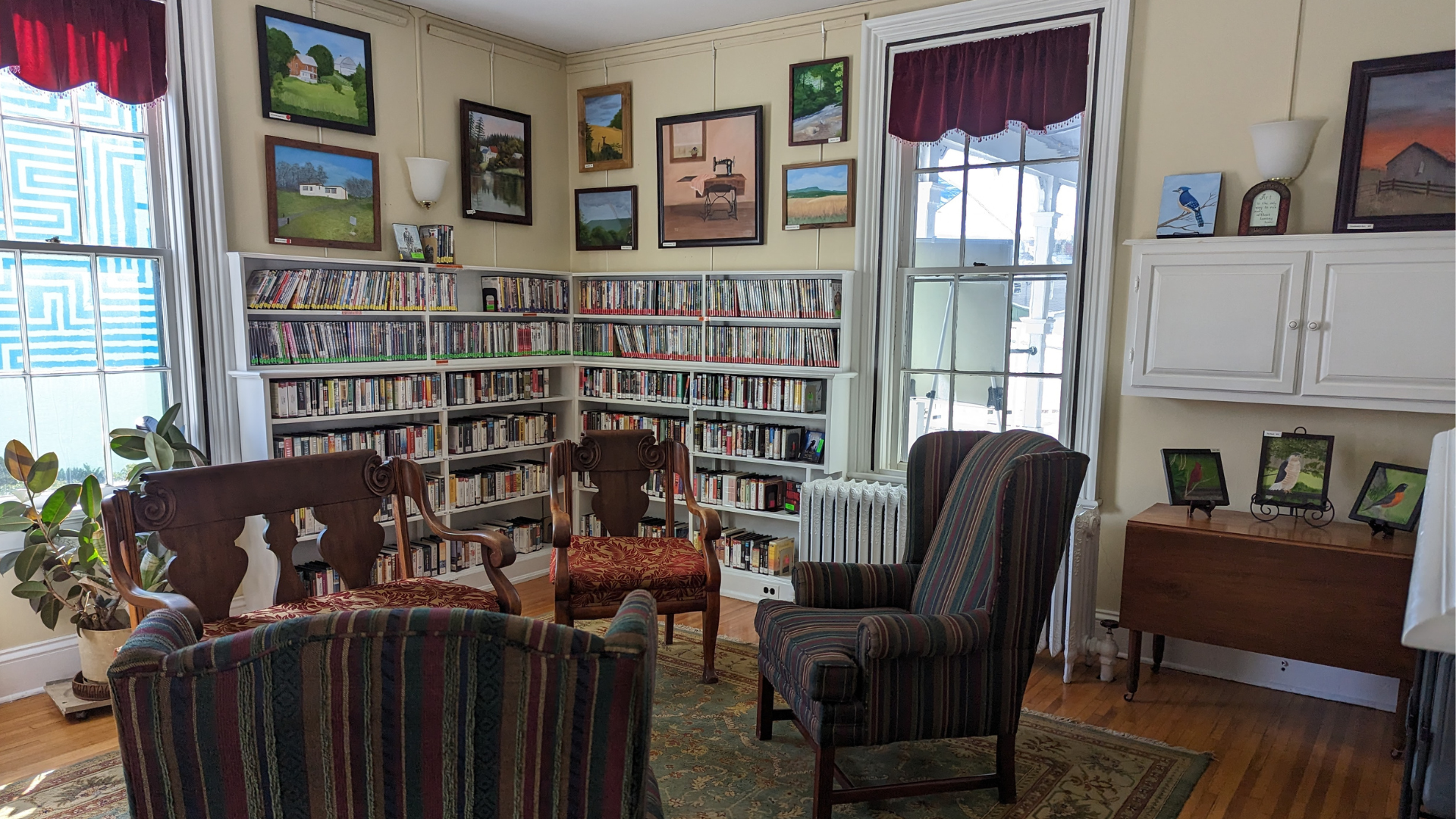 Libraries of Virginia
With 27 locations throughout the Shenandoah Valley, no other organization offers entrepreneurs space and resources free of charge like the libraries of Virginia. Gone are the days when libraries were stuffed with dusty books and outdated manuals. These days, they're a golden nugget for entrepreneurs, offering 
Free wifi and computers

Notary services, as well as

Library spaces for meetings and remote work.
Some libraries even offer hotspots and laptop checkouts.
Apart from these physical assets, libraries offer guidance to entrepreneurs through research assistance, learning initiatives, professional development, and a number of programs that serve various technical aspects of a business. 
John Huddy, Executive Director of Hanley Regional Libraries, explains, "Entrepreneurship is important to our communities, that's why we invest so heavily in business resources. For example, at Handley Regional Library, entrepreneurs can scan and fax documents to send, they can print from their cell phones. All meeting rooms are equipped with smart boards, display screens, audio equipment and microphones. And they can check out hotspots and laptops. We know that by supporting startup entrepreneurs and small business owners we are playing our part in growing the local economy. We feel that entrepreneurship helps the community build itself."
Reference and Research Assistance
Do you want to gain more insight into your target market? Research your competitors? Get the latest data on your industry? This in-depth research can be time-consuming for entrepreneurs. Reference librarians are there to help. Librarians are researchers and have deep insight into what other resources are available to small businesses and entrepreneurs both in the local community and within the Library of Virginia network. 
Sharpening an Entrepreneurial Mindset
The Entrepreneurial Learning Initiative is a self-paced course that teaches participants how to think entrepreneurially. Whether you're trying to build a business from scratch or reinvent your career, this series of online modules (ca. 10 hours of content) focuses on sharpening each participant's entrepreneurial mindset: looking at opportunities and recognizing challenges, strengths, and skills each person brings. 
"It's not a course teaching entrepreneurs how to run a business, develop a business plan or build a budget. It really hones the mindset and helps learners how to be able to see opportunities and take advantage of them. It teaches learners how to think like an entrepreneur.", explains Barry Trott, Adult Services Consultant at the Library of Virginia. 
Entrepreneurs who complete the Entrepreneurial Learning Initiative may qualify for the Southeast Rural Community Assistance Project (SERCAP) Small Business Loans Project offering small business loans of up to $5,000 to small businesses in rural areas. 
Professional Development for Entrepreneurs & their Teams
Universal Class is a collection of more than 100 self-paced online courses with experienced instructors. Whether you are an entrepreneur looking to strengthen specific skills or a business owner looking to upskill their team free of charge, Universal Class offers professional development related to business and entrepreneurship:
Soft skills (project management, interviewing, etc.)

Accounting

Personnel management/HR issues

Technology and computing
Legalese
Gale Legal Forms offer downloadable fillable forms for basic legal transactions that conform to the current Virginia code, for example:
bill of sale

power of attorney

landlord/tenant contracts 

Templates for small businesses including: 

Invoices

Leases

Sales agreements

Contracts, and more.
Business Best Practices
Accel5 Business Library is a unique, curated business library that includes videos, book summaries, and articles covering topics such as leadership theory, business best practices and other professional development themes. With an individual account, learners can curate their individual learning journey and keep track of their progress. 
Learning the Language
Transparent Language Online is a program geared towards translation, language assistance, and learning other languages. At their own pace, learners can practice reading, listening, speaking, and writing in over 140 foreign languages, including over 20 indigenous languages and American Sign Language. Transparent Language Online includes English as a Second Language (ESL) materials for speakers of 34 different languages allowing non-native speakers to learn English in their own language. 
While all libraries in Virginia have access to these resources, it's worth talking to your local librarian about what services they offer to their local business community. The Waynesboro Public Library, for example, also offers free access to LinkedIn Learning to provide professional development through the LinkedIn network. Susan Versen, Director of Waynesboro Public Library, emphasizes their support to the local business community, "Waynesboro is a growing city. We know there are many people with lots of great ideas in our community. Waynesboro Public Library wanted to offer additional resources specifically for all the creative people in the Waynesboro area starting businesses, beyond what Library of Virginia provides. LinkedIn Learning, and many other resources, can be used on site or at home, another example of how all libraries and Waynesboro Public Library in particular are trying to respond to the needs of their community and provide resources available 24/7."
Equipped with your public library card, you can easily access Find It Virginia from your home. 
To find your nearest library branch, search it by location here.