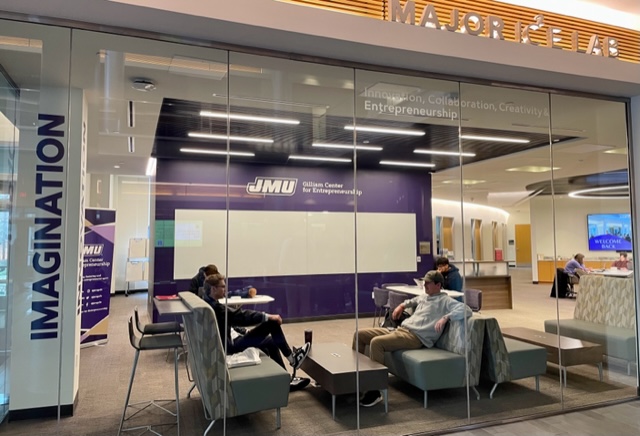 JMU Innovation and Entrepreneurial Spaces

JMU Innovation and Entrepreneurial Spaces
With over 22,000 students James Madison University covers a large footprint. Where do the university's creative and entrepreneurial minds get to work? Where do they brainstorm, collaborate and prototype? 
Mary Lou Bourne, Director of Technology Innovation and Economic Development at JMU, gave us a lay of the land. "These spaces at JMU are open to all students and provide a community for innovators and entrepreneurs to come together to learn from each other as well as skilled and experienced staff.", she explains. 
Gilliam Center for Entrepreneurship
For entrepreneurs who have an idea but don't know where to start, the Gilliam Center for Entrepreneurship (GCFE) is the place to be. It's geared towards students who have a side hustle and want to grow revenue and customers  or those who want to get paid to work on their start-up or get equity funding to help it grow. Even if students are just looking for a  dynamic, cool space to study or work, the Gilliam Center is open to them. 
Located on the first floor of Hartman Hall, the GCFE provides programs, events and activities for JMU students across campus…..undergraduate, graduate and non-traditional students, regardless of major/minor, year or focus. GCFE has co-working spaces with white boards and the latest technology along with Zoom rooms for privacy, and a classroom. The Madison Inc. program gives students with just an idea (or a side hustle) the tools, resources and advisors needed to either launch, pivot, or grow their companies. The competitive Dukes Venture Accelerator program pays students an internship over the summer to work on their startups. The Bluestone Seed Fund provides equity investments into JMU-affiliated startups. 
In 2022, GCFE partnered with the Shenandoah Community Capital Fund to host a weekend long Techstars Startup Weekend to create a space for student entrepreneurs to test their ideas and get a real sense for what it's like to build and/or work on a startup. 
Open Coffees fuel students with free coffee and donuts while listening to a speaker discuss a topic of interest every month. "Even for entrepreneurial minds that don't yet have an idea or a startup, these events are a great way to get inspired, make some fun connections, and learn more about innovation and creativity!", says Suzanne Bergmeister, Executive Director of the Gilliam Center for Entrepreneurship.
An entrepreneur who can attest to the value that GCFE brings to budding entrepreneurs is Julianne Pullella, a junior industrial design major. She developed the basic concept of Tongo, a company that creates stuffed animals that kids can play with and also weave into play structures, during one of her classes. She then participated in, and came in first place at, Techstars Startup Weekend after which she fine-tuned her startup concept through an independent study project. Last November, Tongo participated in JMU's showcase for Global Women in Entrepreneurship Week. Her company continues to grow.
JMU X-Labs
JMU X-Labs encourages innovators to build and test their ideas using the latest maker equipment: laser cutters, vinyl cutters, 3D printers, large format printers, AR/VR technology, sewing equipment, and low-fidelity prototyping materials.  
The "X" in JMU X-Labs represents the variables of expertise, lived experiences, disciplines, and JMU's commitment to inclusive excellence. Students, faculty, and staff from across the university have access to the space and all activities aim to reflect the values of X-Labs: design thinking, systems thinking, inclusive excellence, collaborative innovation, engaged learning, impact initiatives, creative inquiry, and community. 
The Makery
The Makery is a makerspace on the first floor of Rose Library on JMU campus. It is free, open five days a week for walk-in use, and available to all JMU students, faculty, staff, and – unlike some of JMU's other amenities – community members. The Makery's knowledgeable staff can assist and train on operating equipment like 3D printers, a Glowforge laser cutter, electronics workbench, and more. Faculty are welcome to schedule a consultation to arrange a class visit, and anyone can sign up for access resources such as:
3D modeling workshop: In an hour, users will learn the basics of 3D design, and have a prototype build started in an Ultimaker 3D printer.

Audio Production workshop: Gain understanding of skills and concepts necessary to make a high-quality recording. Take those skills into the narration room, where users can record voice overs or podcasts with up to 4 people.

Crafting! Sign up for a mixed-media painting workshop. Have fun in the Makery and learn to use equipment like the Cricut, vinyl cutter, button maker, sewing machine,

and more.

Equipment Loans

is next to the Makery. Visitors can check out equipment and extend their creativity beyond the Library.
While these spaces are on the JMU campus, JMU is pursuing ways to partner with community spaces that will bring JMU students and faculty with knowledge, passion, and experience, out into the greater Shenandoah Valley Community and strengthen the vibrancy of the Valley's entrepreneurial ecosystem.