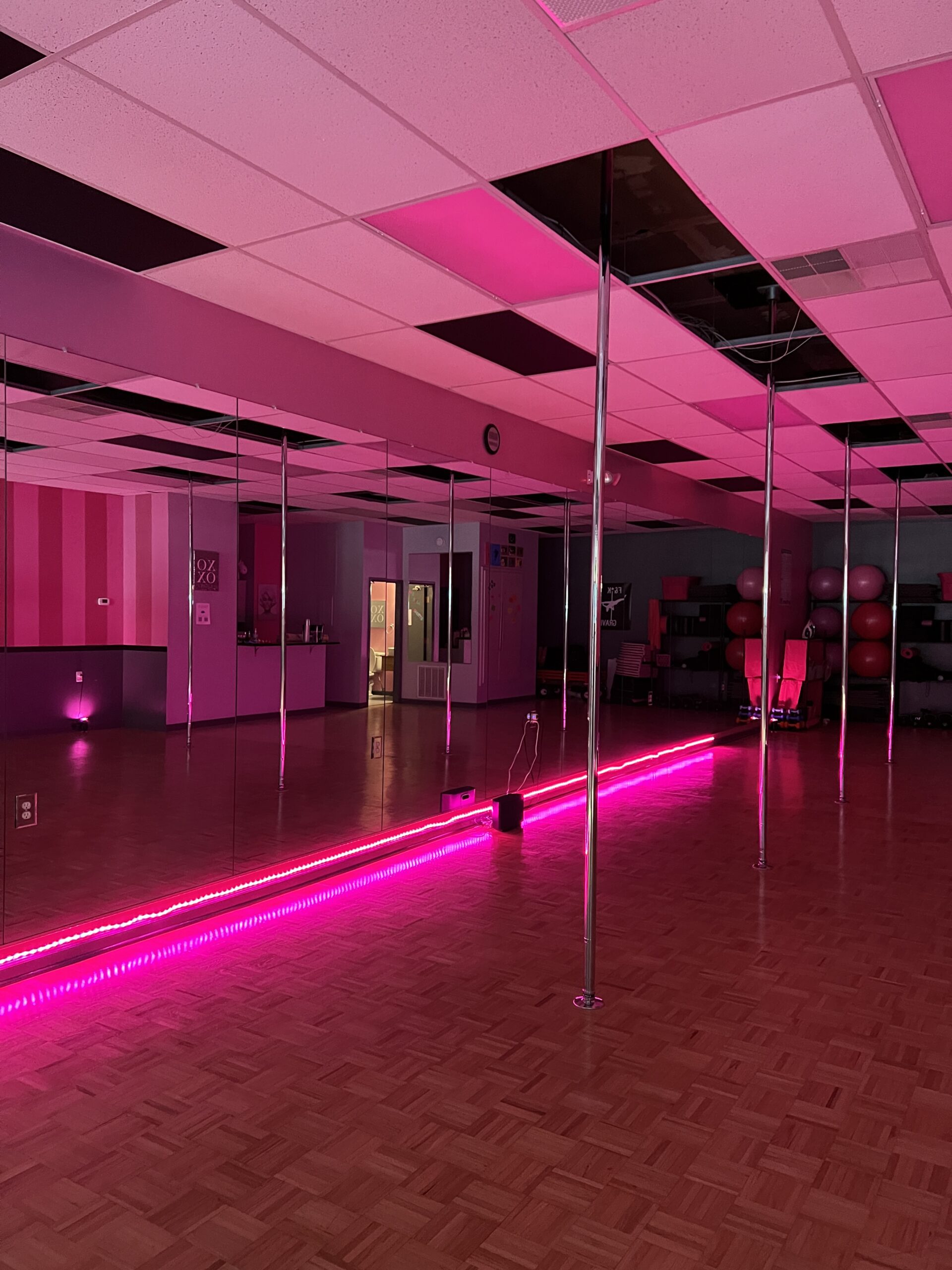 How Long Can a Side Hustle be a Side Hustle? Pink Ambition

How Long Can a Side Hustle be a Side Hustle? Pink Ambition
In 2015, Pole Fitness fanatic and instructor Karen McIntyre partnered with an acquaintance to open her own pole studio, Pink Ambition Pole Fitness. Partnering with someone else made the side hustle feasible in the beginning but after a few months, Karen made the difficult decision to dissolve the partnership; it wasn't a great fit.
Now on her own, while working full-time as a title insurance agent for real estate settlements, Karen had to figure out a way forward. Thankfully she found a lot of business support in her community: After getting support through Harrisonburg Downtown Renaissance (HDR), the Small Business Development Center (SBDC) and Harrisonburg's B-Cubed program for Black and Brown business owners, Karen also participated in a sales-focused training cohort and Startup Shenandoah Valley, an accelerator through Shenandoah Community Capital Fund (SCCF). With this new-found support system, Karen flourished, "By having organizations believe in me and support me, my whole mindset changed. I started putting myself out there more in the community, began networking, and started actually marketing my business. My business and I have grown more in the past two years than I did in my first five years of business!"
"You can't do it all on your own, it's just too many hats for one person to wear – especially if you're also working full time." – Karen McIntyre
As a result, Karen's business changed, too. What started out as a dance studio with different offers turned into a niche business that fully embraces pole fitness. "Currently, the demand is greater than what I'm able to offer. While we primarily offer night-time and weekend classes, even our day-time classes during the week are extremely popular.", Karen explains. Her goal is to offer classes all day long to meet the demand. But this raises the question of how long a side-hustle can remain a side-hustle.
Saving Your Sanity by Delegating
"I currently work 80 to 90 hours per week," Karen shares. "40 hours go toward my day job. On top of that, I run the studio, host group classes and teach one-on-one. Then there's the business side of things that most people don't see: All the back-of-house operations that ensure things run smoothly. On top of all that, I carve out time to focus on growth and generating more revenue: I'm part of different business coaching programs that require a lot of time. Luckily, I learned along the way that delegation is key if you want to survive as an entrepreneur. The first several years I tried to do it all by myself, I didn't know what I could release and what I couldn't. But of course, I didn't have time to do it all which slowed my growth. Now I have two managers  that help with everything from day-to-day to planning and scheduling."
Advice for Other Side-Hustlers
Eight years into her journey as a full-time employee with a side hustle, Karen has learned a thing or two about starting and running a business, "Learn as much as you can about running a business as early as possible. I went into it with zero knowledge about how a business actually operates. It's more than money in and money out. Get involved with your SBDC, SCCF and find support to educate yourself rather than just focussing on getting the business going. What I realized as a solopreneur is that I AM the business and if I'm not up to par, my business won't be either – and neither of us will grow."
Pink Ambition is open Tuesday through Sunday, and you can sign up for weekly classes on the website class schedule. If you haven't been to a pole class before, and don't know where to start, check out the class description page to see what's right for you!