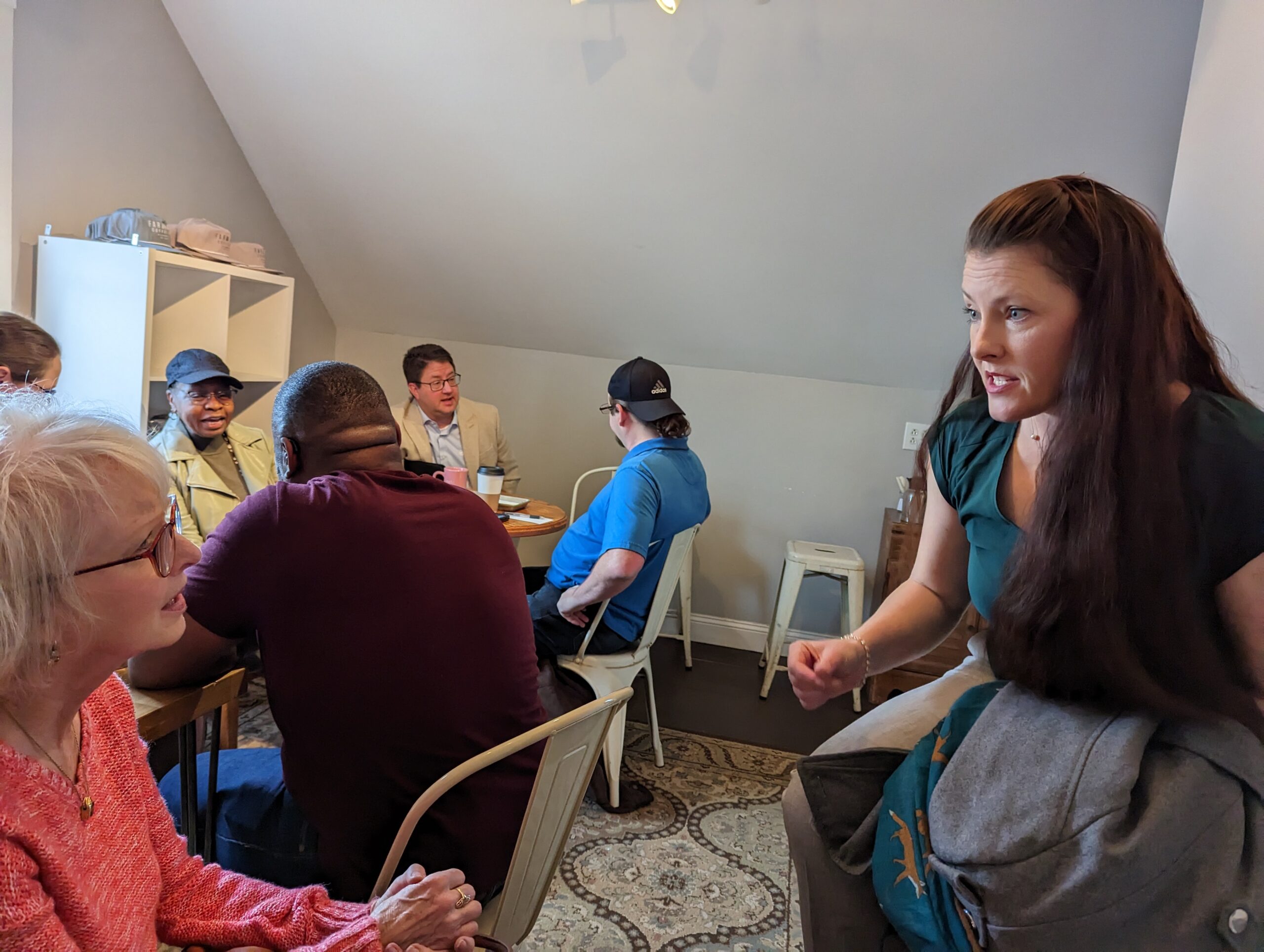 Connections Over Coffee: Grow Waynesboro

Connections Over Coffee: Grow Waynesboro
If you stumble into Waynesboro's Farmhaus Coffee on the first Thursday of the month looking for your caffeine fix, you'll be greeted by busy chatter, laughter and the exchange of business cards in their upstairs event space. 
As a small local business themselves, Aaron and Bethany Mallory provide space for local entrepreneurs and those who want to become one one day to mix and mingle at the beginning of each month. "We opened November of 2016 with the goal of providing a place for our neighbors to gather, connect, and experience community through the lens of coffee," the couple explains. From entrepreneurs to service providers, small business bankers and attorneys to city council members and community leaders – you'll meet a great variety of stakeholders from  Waynesboro's entrepreneurial ecosystem. 
The event itself is hosted by the City of Waynesboro that is investing in their outreach efforts and support for local entrepreneurs by providing access to resources, events and community. What started out as a coffee meetup with four participants in September 2022 grew into a 25+ people networking event for entrepreneurs and small business owners over the span of four months. 
Behind this idea of the monthly coffee chat is the small business specialist Jay Messenger. Jay was hired in April 2022 to support early-stage entrepreneurs in Waynesboro in starting and growing their businesses, "Outside of our monthly Coffee Chat, I provide technical assistance to entrepreneurs to start or grow their business in the city. After initial consultations, I'm often able to offer small grant awards through a group of local service providers that specialize in services such as legal guidance, accounting, marketing, licensing requirements, website strategy and business development. I also hold a quarterly classroom event called "Start Up" business workshop to help entrepreneurs understand the requirements of starting a business in the city of Waynesboro and state of Virginia. Waynesboro is one of five cities under the Shenandoah Valley Community Navigator program through the U.S. Small Business Administration – our goal is to provide more support to historically underserved entrepreneurs." 
At the end of 2022, Grow Waynesboro was awarded a Community Business Launch grant to help vacant storefronts in historic downtown Waynesboro. During the first half of 2023, dozens of entrepreneurs received business training and technical assistance in preparation for Pitch Night which was held on April 17, 2023.
Hosting the monthly Coffee Chat at Farmhaus is intentional, as Jay explains, "I believe in convening in places that entrepreneurs are already familiar with. A coffee shop is a lot more accessible than a city government meeting room. Plus, it's important to me to support our local businesses and Farmhaus has been a great partner in this event format."
About the entrepreneurial ecosystem in Waynesboro Jay says, "There are many elements in the ecosystem that need to work together in order to deploy a cohesive business growth strategy. We don't currently have a co-working space, incubator or accelerator program to provide consistent startup support to local entrepreneurs. We have some strong players in our ecosystem who already support business growth and expansion, such as the Greater Augusta Regional Chamber of Commerce, the Shenandoah Community Capital Fund (SCCF), the Community Foundation, the Small Business Development Center, Blue Ridge Community College and the Shenandoah Valley Technology Council to name a few. But building up full-time capacity for ongoing quality entrepreneurial support requires a strong vision by leadership and a significant investment in the support infrastructure. I think we have some room to grow, in particular when it comes to supporting Black and Brown entrepreneurs in our community. It's great to have partners like RISE Organization who are advocating for the Black community in Waynesboro, and I look forward to seeing what else we can do together to move that boulder up the hill."
Grow Waynesboro's Coffee Chat takes place every first Thursday of the month from 7.30 to 9.30 a.m. at Farmhaus Coffee in Waynesboro. The event will soon move to Happ Coffee Roasters, Farmhaus's sister company, to accommodate the growth of the event.