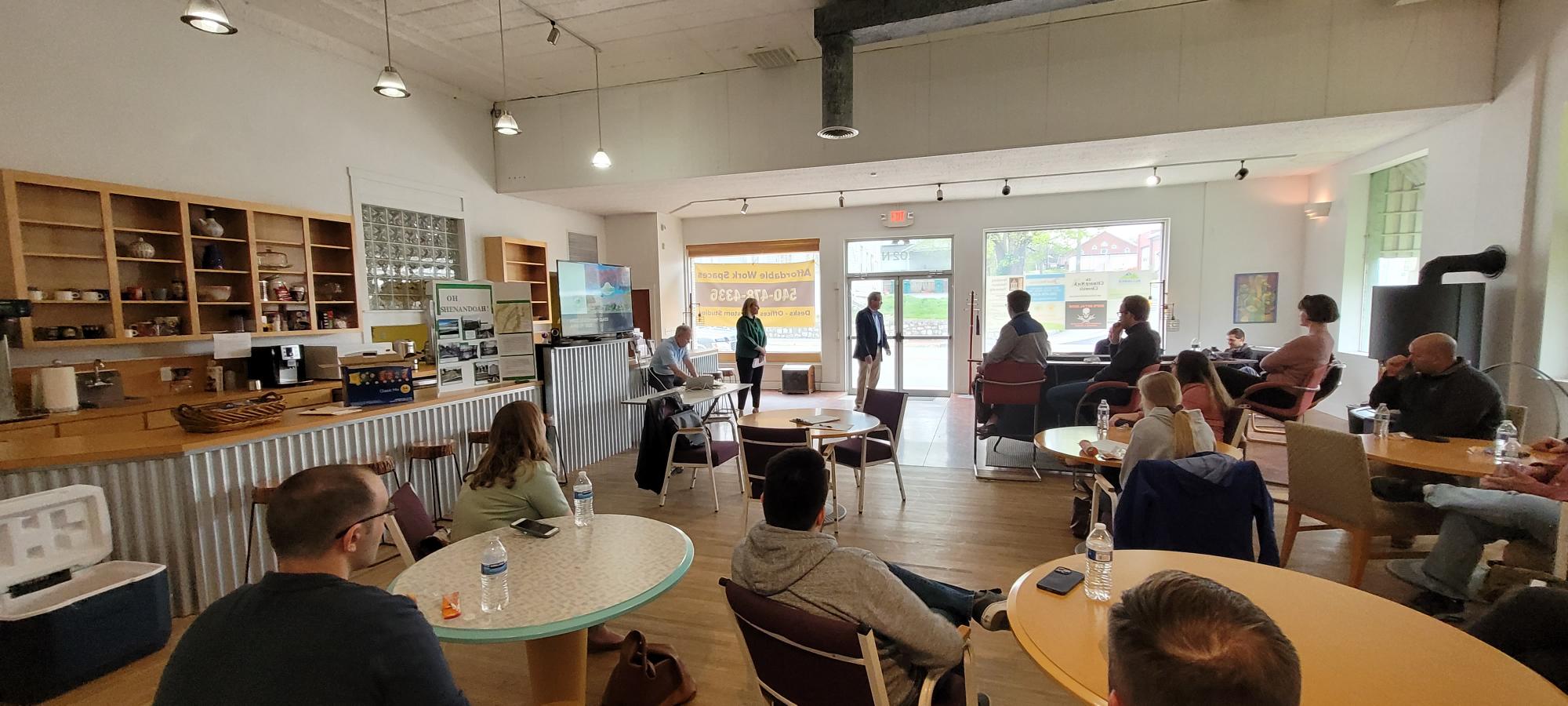 Heavy Metal Meets Firewood: Broadway Coworking

Heavy Metal Meets Firewood: Broadway Coworking
What do a heavy metal Youtube Show and an innovative product made from red oak trees have in common? They both have a home base at Broadway Coworking, located in the small town of Broadway in Northern Rockingham county. With a population of 4,500 people Broadway offers small business owners and entrepreneurs a 10,000 square foot co-working space to get work done away from home and its distractions.
Unlike coworking in large metropolitan areas, you won't find any hoodie-wearing hipsters hiding behind their screens all day. Eugene Bare, owner of Bare Web Design & Marketing who manages the space on the day-to-day explains, "We want the community to have a place where they can create and work without their kids or dogs staring at them all day. Working from home can be isolating; there's always a pile of laundry to be folded or trash to take out. At Broadway Coworking, community members can focus on doing their thing while making connections. One of the great benefits of joining a space like this is that you can always ask for advice or help if you get stuck – be it in terms of a business question or your product or service. We believe that running a business is hard enough, surrounding yourself with people who are walking that same path makes it a little easier, and a lot more fun."
Hop's Metal Show, a popular Youtube show, for example, is produced at Broadway Coworking thanks to the stage, greenscreen and recording setup available to members. Its creators Jeff Reid "Hop", Chris Diehl "String" and Larry Yankey "Love" started this show as a tribute to their favorite genre of music: Heavy metal and hard rock. On the show, Hop, String, Love and their guests discuss videos and the music from new releases and bands from the genre; they even interview bands and live stream at times. The show has over 11 thousand subscribers and over hundreds of thousands of views on Youtube. "It's been cool to see Hop's Metal turn their passion into a successful Youtube channel that has even built strong friendships with fellow metal fans as far away as Japan!", Eugene shares.
Another creator at Broadway Coworking is Paul Powers, inventor of Shenandoah Smoke Blocks. This product was born of Paul's passion for grilling and utilizes the native red oak trees on his woodlands. Currently Paul is in the process of bringing Shenandoah Smoke Blocks to market which should happen in the spring/ summer of 2023 just in time for grilling season!
Also part of the Economic Development Committee of the Broadway Hometown Partnership, Eugene describes the town's entrepreneurial spirit, "The Broadway business community is rejuvenating itself in new ways. We now have very few open storefronts downtown because of the rise in new businesses opening. And we also have a lot of home-based businesses and a Community "Good News" Paper, The Chimney Rock Chronicle. There are definitely some entrepreneurial sparks in this town! As the local coworking space, we want to be a place where entrepreneurs – homebased or not – can come and learn, make their businesses stronger and more resilient while connecting with other business owners."
Cari Orebaugh, Assistant Town Manager, adds, "Because Broadway is fairly small, we have a business climate that is personal and warm. I'm excited to see what opportunities the new Shenandoah Rail Trail, that will connect Broadway to Front Royal, brings for our community. I think we can leverage some of our existing business infrastructure such as Broadway Coworking and our seasonal community market to highlight our local small businesses and offer more support to those that are just starting out or looking to take the next step."
Broadway Coworking offers day passes, desks, private offices and custom workspaces to meet different needs. Small business owners looking for fast Wifi, meeting space and a great community of fellow entrepreneurs can join until capacity is reached. Coffee, snacks and printing included! 
Learn more at BroadwayCoworking.net